Top things to do in Rhodes
Rhodes is a gem among the Aegean islands, a place of unparalleled beauty that even the locals can't resist exploring daily. Get your checklist ready because we've curated the very best things to do in Rhodes that are sure to capture your heart!
1. Discover the Medieval City of Rhodes
The Medieval City of Rhodes, a UNESCO World Heritage Site, is a captivating journey through time, where history, culture, and architecture seamlessly blend to create an enchanting atmosphere. Within the city's well-preserved walls, you'll discover cobbled streets, ancient buildings, and captivating exhibitions. At its heart stands the awe-inspiring Grand Master's Palace, once the fortress of the Knights of St. John. The medieval charm of this place is further heightened by traditional shops and an array of cultural treasures. Located just a short 6 kilometers away from this historical wonder is the Atrium Platinum Lifestyle Resort, providing a perfect blend of modern luxury and proximity to the medieval splendor, making it an ideal base for exploring the rich heritage of Rhodes.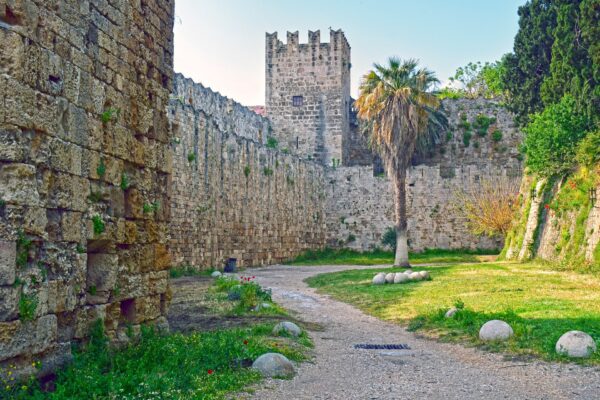 2. Enjoy a night out like a local
The nightlife in Rhodes offers a diverse range of experiences in different locations across the island. Mandraki, with its bustling harbor and charming atmosphere, comes alive after the sun sets. The town boasts a variety of bars, restaurants, and entertainment venues where you can enjoy quality food, cocktails, and live music. Strolling through the medieval town of Rhodes at night is a truly enchanting experience. The ancient cobblestone streets and historic buildings are beautifully illuminated, creating a romantic and magical ambiance. You can find hidden courtyards, cozy cafes, and vibrant bars within the town's medieval walls, making it a perfect setting for a night out. Meanwhile, in Lindos, the nightlife is a mix of tradition and contemporary enjoyment. The village offers a selection of bars, taverns, and clubs, catering to various tastes. You can savor a cocktail at a rooftop bar with panoramic views, enjoy live music, or dance the night away by the beach. Lindos' nightlife is a unique blend of ancient charm and modern entertainment, creating unforgettable memories for visitors.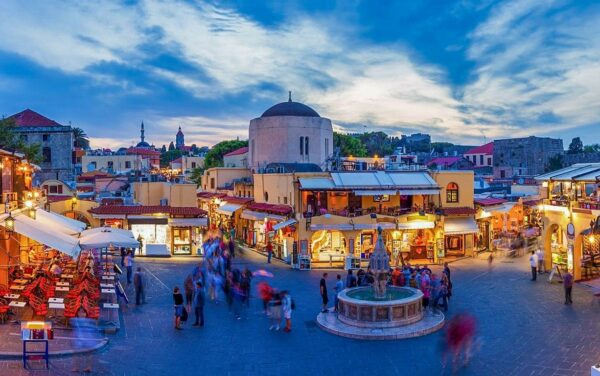 3. Explore the village and acropolis of Lindos
The village of Lindos, nestled on the east coast of Rhodes, is a captivating destination that beautifully marries history, culture, and natural beauty. Lindos boasts a charming traditional village characterized by its iconic whitewashed houses, narrow cobblestone streets, and a vibrant atmosphere. Here, you can immerse yourself in the rich history and culture of Rhodes. What truly sets Lindos apart is its magnificent acropolis, an ancient citadel that has proudly presided over the town for centuries.
The Lindos Acropolis stands 116 meters above the Aegean Sea, offering breathtaking panoramic views. This monumental site is steeped in historical significance, having served as both a sanctuary dedicated to the goddess Athena and a formidable knights' fortress in past centuries. Exploring the acropolis, you'll encounter an array of well-preserved monuments and cultural heritage details, providing a fascinating glimpse into the island's past.
For those who wish to explore the village and acropolis of Lindos, the Atrium Palace Resort offers an ideal location just 6 kilometers away. This luxury resort provides a comfortable and convenient base for your Lindos adventure. It combines modern amenities with proximity to the historical treasures of the region, allowing you to experience the best of both worlds.
If you're seeking a more tranquil retreat further from the bustling Lindos village, the Atrium Prestige Resort is situated 34 kilometers away. This resort offers a serene escape, allowing you to relax in a luxurious setting while still being within reach of Lindos and its acropolis should you wish to explore.
In Lindos, you'll discover a harmonious blend of history, culture, and natural beauty that makes it a must-visit destination in Rhodes. The proximity of the Atrium Palace Resort and the Atrium Prestige Resort provides you with flexible accommodation options to suit your preferences, ensuring your stay in Lindos is both comfortable and unforgettable.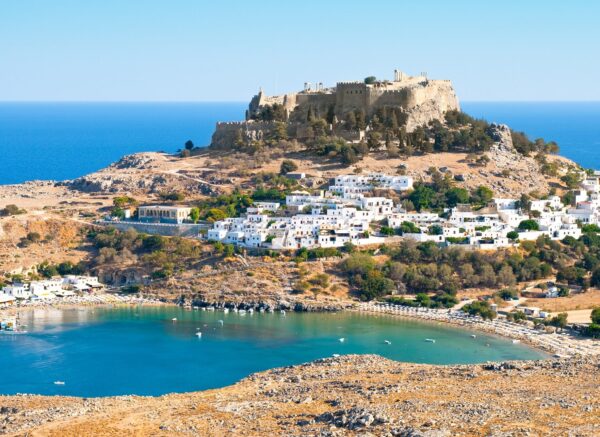 4. Gaze at the sunset from a high point
The enchantment of Rhodes often resides in life's simplest pleasures, and the island offers a plethora of idyllic locations to witness the captivating beauty of a sunset. For a remarkable sunset experience in Rhodes Town, venture to Monte Smith Hill, where you'll discover accessible vantage points that provide unobstructed, awe-inspiring views of the setting sun. If your explorations take you further south, consider the serene locales of Filerimos and the enchanting Monolithos Castle, particularly ideal for those who relish leisurely nature walks.
However, for an unparalleled sunset experience that truly elevates the moment, make your way to the Porfyra restaurant at the Atrium Platinum Resort. Nestled on the 9th floor of the Atrium Platinum Resort in Rhodes city, this exceptional dining venue not only offers panoramic vistas but also presents a delectable culinary journey. With its high-quality cuisine and breathtaking surroundings, Porfyra is the epitome of sophistication and is perfect for marking special occasions or for those who are passionate about savoring the splendor of a picturesque sunset in style.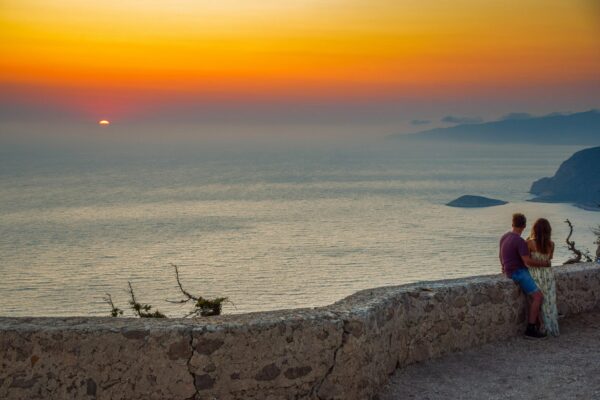 5. Feel the vibes of nature in Butterflies Valley
Tucked away in the picturesque heights of Rhodes, the Butterflies Valley stands as one of the island's most pristine Nature & Wildlife Areas. This verdant sanctuary, complete with babbling brooks, natural springs, cascading waterfalls, and ancient, towering trees, serves as a captivating home for countless butterflies that choose this idyllic setting to lay their eggs. Notably, the Butterflies Valley holds the esteemed designation as part of the Natura 2000 network, underscoring its significance for ecological preservation.
This enchanting locale is situated betwixt the charming villages of Paradissi and Theologos, nestled in the heart of the island's natural beauty. At the valley's entrance, you'll encounter the informative Natural History Museum, providing valuable insights into the area's rich biodiversity. For those with an adventurous spirit and a love for exploration, an uphill pathway beckons, leading to the Monastery of Panagia Kalopetra, perched at the valley's zenith. This ascent offers not only an invigorating trek through nature but also a chance to admire the valley's splendor from a captivating vantage point, making it a truly fulfilling experience for nature enthusiasts.